Doctor McStuffins washes the dolls game
Follow us on Facebook and Youtube: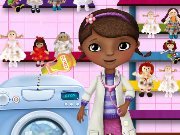 Description: Doctor McStuffins washes the dolls
Little Dr. McStuffins saw how dirty her dolls are and decided to wash them in the washing machine of her parents. They do not know that the girl is able to wash and perfectly understands the process. They will be really surprised!
First you need to know that dolls of different colors are not supposed to be washed together. First, we wash white dolls, and then colored. Otherwise, the white dolls will lose their white color, and the doctor McStuffins does not want it! We have two basins. On one it is written White and on the other it is written Color. Drag the white toys to the first basin, and the rest of the dolls has to be dragged to the second one. Now open the washing machine with the mouse and put white toys there. Then you need to pour liquid detergent for white clothes. Now click on the button and the washing cycle will begin. The same should be done with colored dolls.
When you finish the laundry, then seat the dolls to dry. Look at the black shadows and select the appropriate dolls to put them into this place with the mouse.
Played: 36765. Added: 28-06-2015, 14:51.
Play other games from this developer:
PlayBelle.com
. Categories:
Doctor
Doctor McStuffins washes the dolls game walkthrough: