Zombie curse Rapunzel game
Follow us on Facebook and Youtube: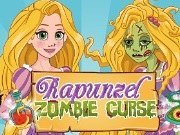 Description: Zombie curse Rapunzel
Princess Rapunzel wanted to escape from the tower, but the witch knew about it. She placed a curse on the princess. Now, if the princess will be in the sun, it will become a zombie. But the princess did not believe in the curse and tried to escape. She became a zombie. Help the girl to return to the normal view back.
How to play:
in this game you can help Rapunzel return to human form. Use mouse and tips in the game step by step to return to her previous form. In addition, you must choose one of the five bottles of potions to cure the princess finally.