Princess After Back Surgery game
Follow us on Facebook and Youtube: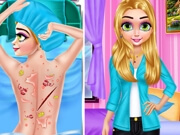 Description: Princess After Back Surgery
Even a princess can have difficult situations in life. In this game, Princess Mia got into an accident and hurt her back. Now she urgently needs to see a surgeon. Fortunately, the princess does not need complicated surgery, but she does have many minor scratches and lesions on her skin that need to be cared for. Help her become healthy as soon as possible and return home as soon as possible. After all, she so wants to quickly become healthy and sleep at home, as well as forget all the bad things that happened to her.
How to play:
Help Princess Mia recover and become healthy as quickly as possible. Use medical instruments, cotton wool, and other means to help the princess quickly leave the hospital and go home to recover.
Played: 13005. Added: 4-03-2021, 00:32.. Categories:
Doctor