Goldie Accident ER game
Follow us on Facebook and Youtube: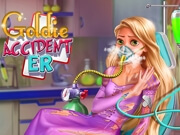 Description: Goldie Accident ER
Princess Goldie was in such a hurry to leave her tower that she stumbled and fell. Now she urgently needs help. Let's go with her to the hospital and will be a kind doctor for the famous beauty princess during the game. First, you need to invite her to lie down in a chair and so that her hair does not interfere with her. Then we will put on an oxygen mask and measure the temperature. If they are high, then it is worth giving an injection. To do this, use fun medical supplies. After the injection, you can give the princess a couple of bright pills to improve the girl's mood. In this game, you will be accompanied by pleasant music, which will surely cheer up not only you but also the princess.
How to play: use the tips in the game to help the princess quickly heal her wounds and she became cheerful as before.