Cinderella treats her teeth game
Follow us on Facebook and Youtube: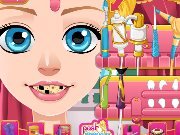 Description: Cinderella treats her teeth
Cinderella is in trouble. She has a toothache. She doesn't know what to do. It is very good that there is a dentist who can hellp her at this difficult moment and treat her teeth.
How to play:
In this game you will be able to help her heal teeth. To start clean them of debris. Then join in their treatment. Then you can decorate your teeth with precious stones. Then you can choose Cinderella makeup, hair and dress. After such treatment, your patient will be even more beautiful than it was.
In the game you need to use the mouse and tips kotorve appear at the top of the game.
Played: 45882. Added: 23-04-2015, 15:03.
Play other games from this developer:
PoshDressup.com
. Categories:
Doctor