Draculaura arm surgery game
Follow us on Facebook and Youtube: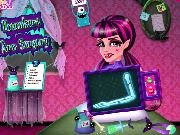 Description: Draculaura arm surgery
Draculaura is a very active girl and all her friends from School Monsters. This time she explored a dark cave. It was very dark, it is easy to stumbled upon a flock of bats that had frightened her. Thus our beauty hurt his hand, and volatile mouse and even bitten her out of fear. Now Draculaura needs help and so she came to the hospital.
How to play:
use the mouse and hints to cure the poor girl. Give her pills, clean the wound and give her a shot.