Princesses Movie Rehearsal game
Follow us on Facebook and Youtube: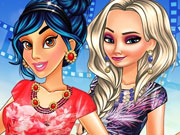 Description: Princesses Movie Rehearsal
Do you like movies? I love. I'm waiting for new movies, watch trailers and look at the posters of the cinemas to find out when will the new film. I also love to see any of their actors to enjoy their magnificent game and get a lot of pleasure. Dress up this game about Jasmine and Elsa, who love movies and cartoons. Recently they were asked to star in a movie. Girls loved this news and now they are preparing for their roles and thought about the selection of hairstyles and dresses. It turned out that this is not an easy task. Let's get together with princesses with a look at which hairstyles, jewelry, and dresses are in the wardrobe. You will be able to create an outfit for Elsa and Jasmine. Maybe in the next cartoon, you'll see these beauties in dresses and hairstyles that you have chosen?
These two Disney Princess perfectly relaxed and you can now play another game
Aladdin uno
. Your task is to distribute as many cards as possible and earn maximum points.