Uno-Aladdin game
Follow us on Facebook and Youtube: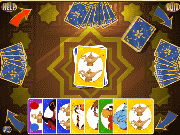 Description: Uno-Aladdin
Have you ever played the game Uno? This is the same game, but here you will find "Aladdin" cartoon characters. There 4 players in the game, at the beginning each user is dealt with 7 cards. To win, you have to give all the cards that you have in your hands. If you win, you get number of points equal to number of cards that are left in the hands of your opponents.
All players play clockwise. In the center of the Aladdin uno game you will find the current map. Follow it with a color and pattern on it. If now it's your turn, you must put a card on the table and it has to be of the same color on the map or with the same picture. If you have no such card, then click with the mouse to take one from the pile.
Played: 173097. Added: 17-05-2014, 07:26.
Play other games from this developer:
StarSue.net
. Categories:
Disney