Ariel flying to Japan game
Follow us on Facebook and Youtube: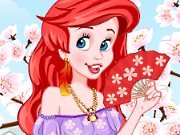 Description: Ariel flying to Japan
Ariel heard a lot about Japan. It remains quite a bit of time and our beauty will arrive in Tokyo! This extraordinarily beautiful place. Ariel selects all the things very carefully. Look how beautiful it's going to take a suitcase with him. It's all in the beautiful labels and looks very stylish.
How to play:
help Ariel to come to Japan. To do this, you will help her choose a suitcase, color and pick up labels. After that, the girl need to register the plane. Give the passport to the manager of the airport. The next time you need to check is not too heavy luggage takes a traveler. Then you can choose a beautiful dress, hairstyle, shoes and jewelry. I think it's a great game. Is not it?