Fashion Fall Checklist game
Follow us on Facebook and Youtube: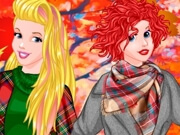 Description: Fashion Fall Checklist
Autumn came very quickly and not noticeably. And although the first days are still pleasing with the warm sun, the cold is about to come and you will need to dress warmer. In this dress up game, you will tackle Princess Ariel's wardrobe. First, inspect the clothes that she has in her wardrobe. Choose dresses, shoes, and T-shirts that are only suitable for summer, then move them all into your suitcase. She will wear them next spring. Now you should make a list of the clothes you need to buy in the store in order to wear them in the fall. After all, do not dress Ariel in cool autumn summer shoes? Therefore, select warm clothes in the store with your mouse and collect them in the basket.