Princess Fashion Instagrammers game
Follow us on Facebook and Youtube: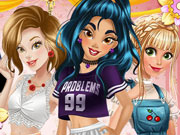 Description: Princess Fashion Instagrammers
Princess Rapunzel, Jasmine, and Belle love attention. They like the fact that their fashionable taste is also liked by all their fans on Instagram. Every two or three days they post new selfies with a new image that receives many likes and comments. Every girl wants to be like them and that is why their blogs in infrastructure are very popular. Let's take a look at what clothes they choose and get their selfies. In this "Princess Fashion Instagrammers" dress up game, you can choose a new outfit idea for a combined selfie of all three princesses.