Attire for the Princess 2 game
Follow us on Facebook and Youtube: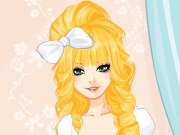 Description: Attire for the Princess 2
Not always, princesses have the time and desire to do their own wardrobe and bad if the designer of the clothing is late. It is good that you are here today and you can help this beautiful girl with a choice of dresses, hairstyles and jewelry for meeting the guests from other countries.
How to play: to dress the princess up use your mouse. Push the buttons on the left to start choosing clothes. Drag it to the girl and see how well the dresses, shoes and jewelry suit her.