Walk in Paris game
Follow us on Facebook and Youtube: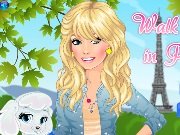 Description: Walk in Paris
Spring! It's time to relax! Let's go to Paris! There's so beautifully interesting. Walk the streets of Paris and visit museums, cafes and other places.
Choose your new outfit for the trip. Pay attention to her hair, dress, jewelry and pick your light makeup.
Controls
: Push the mouse on the picture to select clothes.
Walk in Paris game walkthrough: