Cute Angel dress up game
Follow us on Facebook and Youtube: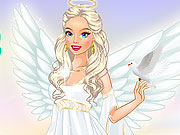 Description: Cute Angel dress up
Girls, do you love playing dress-up games with the angels? Because today we have prepared for you a dress up game with Barbie angel. This is a very beautiful and sweet creature that spends a lot of time to work wonders. So I have very little time to choose the dress and hairstyles. So let's get on with you a selection of one of the white dresses, bright and shiny hair, and bright decorations.
How to play:
in this dress with the angel you will be able to see which dresses and hairstyles worn by the angels, and then create a new image by selecting what you like from the wardrobe of the cute girl.