Harley a Princess game
Follow us on Facebook and Youtube: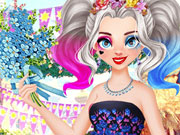 Description: Harley a Princess
I think that Harley Quinn is known as a girl with a bad temper who does evil deeds and helps the Joker. But those times are over, and now Harley wants to be kind and to be known for her good deeds. She is looking for help and wants to be taught this. She especially likes the idea of ​​visiting the Disney princesses and learning how to do her good. The princesses agreed to this and even offered to change outfit, hair and makeup for Harley. This will be a great step towards creating a new princess Harley.
In this
dress up game with Disney princesses
, you can visit eight princesses in turn and together with them pick up a new image in the style of each princess.