Audrey Venice Carnival Fashion game
Follow us on Facebook and Youtube: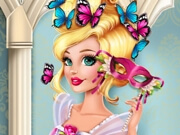 Description: Audrey Venice Carnival Fashion
Meet Audrey and she has long dreamed of visiting Venice. She especially likes the idea of ​​being there during the carnival. At this time, there will be many tourists, guests, and of course the carnival itself. The participants of the festival wear masks and beautiful costumes. This is where our fashionista Audrey can show her imagination, who has long wanted to try on a beautiful dress, use vintage makeup, choose a fan and, of course, wear a mask. In this dress up game, you can take part in this fun activity and create some beautiful outfits for the Venice Carnival.