Campus Divas game
Follow us on Facebook and Youtube: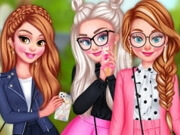 Description: Campus Divas
School means classroom lessons, homework, sporting events, school parties, and of course dating. But in order to be the diva of the campus and be heard by everyone, you will have to make no small efforts. It is necessary not only to study well but also to look great. Therefore, our company of six beauties is going to keep the brand and become the best girls on the school campus. To do this, they often get together to discuss events at school and help each other with personal issues. They do not only do their homework but also lend a helping hand in choosing outfits. After all, you always want to see a beautiful girlfriend nearby, who looks great thanks to your advice.
How To Play: Help all the girls on campus look great. Choose outfits, makeup, hair, and jewelry for them.