Elsa Fashion Blogging dress up game
Follow us on Facebook and Youtube: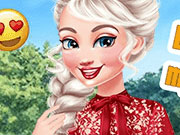 Description: Elsa Fashion Blogging dress up
Elsa decided to go into fashion and start her own fashion blog. This "Elsa's Fashion Blog" dress up game will give you the opportunity to create a photo for a fashionable young woman's blog along with a famous beauty. Create five outfit ideas from what you see in
Elsa's
wardrobe and get the maximum number of votes for each of the photos. Start by choosing a hairstyle, then clothes, then choose shoes. After all this, do not forget to choose jewelry. This may be a handbag, tiara or smartphone.