Moana & Ariel Travel in Style game
Follow us on Facebook and Youtube: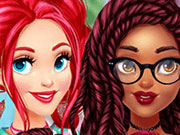 Description: Moana & Ariel Travel in Style
Princess Ariel and Moana are just perfect friends. They get along great and both love the sea. If you went to rest with them, you could see the sea from the other side. After all, Moana will show you how easy it is to travel along the waves, and Ariel will show the sea kingdom. Let's start playing this game and go on a journey with Moana and Ariel together. And it can be not only the sea. We will choose this later, and first let's pick out the outfits in which the princesses will rest. To get started, choose their hairstyles, sun glasses and jewelry. Then take care of their clothes. Choose clothes that are convenient for them in the place where they go to travel.