Girls Pink Crush game
Follow us on Facebook and Youtube: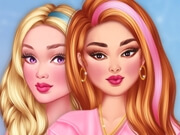 Description: Girls Pink Crush
Today is a great sunny day and these four princesses are getting ready for a walk. They adore pink and today decided to wear everything that they have in this color together. And since they are fans of this color, they have a lot of sweaters, T-shirts, T-shirts, dresses, skirts and even jeans in this color in their wardrobe. You will be amazed at the selection of outfit items you find there. But first, you will need to tackle their makeup. Choose the lipstick color, eyelash length and powder color that works best for them. Then you can start choosing clothes. Here you will find a lot of beautiful pink outfit items. And of course you need to think about choosing a hairstyle. Choose the one that you like the most, and also choose the hair jewelry.
How to play:
Choose the best outfits for these four princesses in pink style. Pay attention to every element of your outfit. Create the best one for each of the girls. They all have a great walk today!