Super Barbie Ballerina game
Follow us on Facebook and Youtube: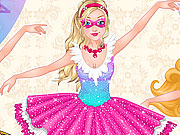 Description: Super Barbie Ballerina
Hi girls! You love ballet? Barbie is crazy about him. Today will be her favorite ballet "Swan lake". Barbie has always wanted to play the role of one of the swans. Today she has a great chance to try yourself as white and black swans. So she came into the dressing room and is going to choose a cool outfit.
How to play:
in this game the Barbie dress up ballerina would choose his outfit for black and white swans. Help her to transform and be like a real ballerina!