Disney Princesses Postcard Maker game
Follow us on Facebook and Youtube: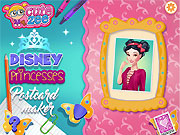 Description: Disney Princesses Postcard Maker
Today is a great day! Because you have the opportunity to be a Princess! In this game you can create personalized postcard from one of the Disney princesses. This is Moana, Rapunzel, Cinderella, Snow white, Aurora and Ariel. As you can see, Princess quite a lot to choose the best. And what will you choose? Once you choose a Princess, you can begin to create your best card. Imagine that you write a greeting to a friend or moms. They will be very pleased to receive such a message. Then learn what jewelry is in this game and start decorating your message. Let your card will be bright, beautiful and pleasant!