Princess in white dresses game
Follow us on Facebook and Youtube: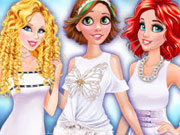 Description: Princess in white dresses
Princess Elsa is having a party and wants you there too. So boldly go along with other princesses and find out what kind of gift they are waiting for there. In addition, Elsa asked all the princesses to be in white dresses. This is a very interesting idea and I think that everyone will like it. Let's see together what beautiful dresses are in the wardrobe of the princess and dress our princesses in them.
Use this dressing game to decorate all the dresses and dresses to dress girls in crystal white dresses, dress them with bright diamonds and beautiful white shoes.