Barbie Vintage Fair game
Follow us on Facebook and Youtube: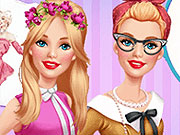 Description: Barbie Vintage Fair
Barbie is a big fan of fashion and follows the latest news in it. She learned that vintage fashion is back and now she is thinking of replenishing her wardrobe with clothes in this style. In this game, she will go to a vintage fair where things that were popular 25 years ago will be sold. Let's go with her to this interesting place and find out what was fashionable then. I think we will find many interesting types of dresses and jewelry that we have never seen before. In this
dress up game
, the fashionista Barbie takes with us $ 300, which we can safely spend on any outfits that we see there. Use the mouse to mark them and watch how the decline will decrease, which she took with her to the fair.