Witchy Style: Now And Then game
Follow us on Facebook and Youtube: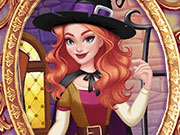 Description: Witchy Style: Now And Then
Do you know about Halloween? Surely you are familiar with this mysterious and scary holiday. But in this game, you will find not just a girl who would like to dress up for Halloween. This young witch! She believes that his holiday and, therefore, with great pleasure, dressed in this day. Look at how many dresses in her closet. Some of them are so old that can break. Apparently, these dresses still wore about her grandmother. So let's create different images. One of the vintage clothing, the second of modern, and the third outfit let it be in a mixed style. Next, you can choose the outfit you like the most. And draw a conclusion about which outfits were worn then and now, and what style you like more.
Girls, want to play
dress up games about Halloween
? For you we have gathered huge collection of games.