Barbie Princess the Clown game
Follow us on Facebook and Youtube: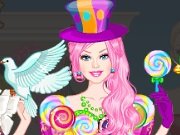 Description: Barbie Princess the Clown
Welcome to this great and fabulous circus. There are a lot of acrobats, clowns, intelligent animals and many many happy spectators. There are performances every day in the circus and the number of viewers is not decreasing day by day. Recently a new program that has had great success appeared in the circus. One of the guests of the program is Barbie. Perhaps because of her there are so many spectators come to the circus.
A new performance is going to be arranged today and Barbie the clown prepares for it. She will juggle, dance and tell jokes. While the girl is preparimg for the show, let's come up with a new outfit for her? She would like to choose a colorful clothes, shoes, jewelry and beautiful hat. Let's make the most stylish and fashionable costume for her! Perhaps the ladies will wear the same at carnivals and masquerades?
In this dress up game Barbie has already come up with four options of the attire. Look closely at them and decide whether they should be left as they are or to come up with something new in the costume. Add something special or take away what you think is unnecessary. You can save the results on your computer or place it in the comments below.
Played: 59931. Added: 11-04-2015, 21:13.
Play other games from this developer:
egirlgames.net
. Categories:
Barbie