Barbie the mermaid game
Follow us on Facebook and Youtube: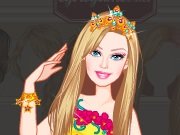 Description: Barbie the mermaid
Do you like to swim? Barbie loves to swim so much that she often imagine herself as a mermaid! And today she was offered to do a photo shoot for a fashion magazine. Guess which image is Barbie going to choose? Yes! The image of a mermaid! Famous fashion designer will help her to choose an outfit for her. He came up with many different outfits for the occasion, and asks you to evaluate them and create a couple of new outfits. Choose the hair style, jewelry options and beautiful tail. In this dressing up game you need only a mouse. Click on everything you want to try and see how it looks on our beauty.
Played: 63621. Added: 11-10-2014, 23:46.
Play other games from this developer:
egirlgames.net
. Categories:
Barbie