Messy Pregnant Barbie game
Follow us on Facebook and Youtube: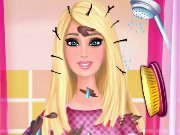 Description: Messy Pregnant Barbie
In this warm and Sunny day, Barbie has decided to go shopping. Unfortunately, she lost her footing and fell into the flower bed and was very upset because of this. Look at who looked like the favorite of all girls in the world. Let's take the girl to the doctor, who will quickly inspect Barbie and help her look as beautiful as a few minutes ago. By the way, it seems that Barbie pregnant. Who would like to look at this time dirty and unkempt?
How to play:
in this game you can help messy pregnant Barbie and remove all the debris that stuck to the girl. Use the mouse to return to its former glowing look this pretty blonde.