Barbie's Bridal Styles game
Follow us on Facebook and Youtube: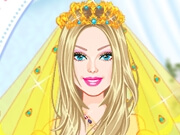 Description: Barbie's Bridal Styles
Barbie is a great expert in organizing weddings. Any bride-to-be who turns to her will definitely get the best memories of how her wedding went. But Barbie's favorite job is choosing outfits for the bride. In this, she has great experience and talent. In this dress-up game, you can help her create five different outfits for the bride. They are all very different and look pretty funny.
How to play
: Use your mouse to select outfits and decorations for the Barbie.