Barbie rides bike in a park game
Follow us on Facebook and Youtube: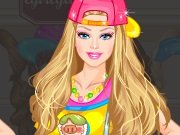 Description: Barbie rides bike in a park
Barbi loves outdoor activities. Almost every weekend she rides a bike and gets enormous pleasure from it! In addition, she likes swimming, running and horse riding. Today the weather is excellent and her friends are waiting for her in the park. So you need to get dressed and go to the park as quickly as possible . But what should she wear? Perhaps you can suggest something? As usual you can come up with your own outfit, but you can use the tips in the game. To do this, click on the light bulb on the top right of the screen.
This dress up game is controlled only with the mouse. Move clothes with it to our athlete and see what a beautiful and comfortable outfit you get.
Played: 59544. Added: 21-02-2015, 00:25.
Play other games from this developer:
egirlgames.net
. Categories:
Barbie