Barbie in the candy country game
Follow us on Facebook and Youtube: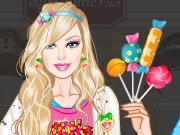 Description: Barbie in the candy country
Barbie had an interesting dream! She as "Alice in Wonderland" dreamed that she was in a wonderful country. In this country, everything is connected with candy and sweets. They are present in clothing, design of houses, names of people and clothing. This dream inspired her to create a new image in the style of candy country princess! What do you think such a princess could wear? Our beauty has already prepared a lot of dresses, hairstyles and jewelry in this style. You're left to choose the best and create a new outfit. If you do not know what to offer the girl, then click on the button with the light bulb to see four options of the attire. I think that you will make it!
Control this Barbie dressing up game only with the mouse. Click on all that you see, and create a new image for the candy country princess Barbie.
Played: 54990. Added: 4-11-2014, 19:15.
Play other games from this developer:
egirlgames.net
. Categories:
Barbie