Barbie the Little Red Riding Hood game
Follow us on Facebook and Youtube: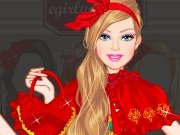 Description: Barbie the Little Red Riding Hood
Barbie has many talents. She proved to be a great designer, good expert of culture and a hard working student. And how could she miss the performance of "Little Red Riding Hood"? Also apparently she is very good for this role. For the role in this performance, she was offered a several outfits. What do you think, what outfit suits her best? Bear in mind that this is a modern version of the tale, and so outfits should also be modern. So in this Barbie dressing up game you can try on leather and fur boots, a mini skirt or leggings, earrings or necklaces. So everything that modern fashion mongers wear now.
Played: 75222. Added: 21-07-2014, 15:11.
Play other games from this developer:
egirlgames.net
. Categories:
Barbie