Barbie Glam Queen game
Follow us on Facebook and Youtube: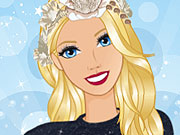 Description: Barbie Glam Queen
Barbie is the queen of glamor and everyone knows that. She looks great any day and for any occasion. And in this dress up game, you will see this. Using your mouse and your imagination you can come up with different outfits for the glamorous Barbie, who always looks like this and could not be otherwise. In addition to choosing dresses, skirts, blouses, and jewelry, you can choose practical makeup. It will be very good if you select several options for outfits for our fashionista. After all, didn't she appear in front of the cameras of photographers and fans in the same dress and with the same make-up?