Ariel Halloween Parties game
Follow us on Facebook and Youtube: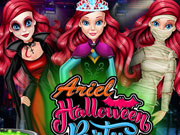 Description: Ariel Halloween Parties
The darkest night of the year is approaching - it's Halloween. And Ariel is very happy about this and is preparing to celebrate it merrily. But here is the problem. All her friends though to see at his holiday. Ariel is very puzzled and looking for help. Will you help her? Create five costumes for five different themed parties. It's Halloween in the style of the 70s, in the style of princesses Disney, in the style of the wild west, Monster Mash and a party in the style of nerds and geeks. As you can see the topics are very interesting and very different from each other. And so I think this is the best Halloween
dress up game with Ariel
. What do you think?