Dress Up: The girl from Asia game
Follow us on Facebook and Youtube: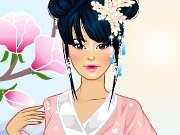 Description: Dress Up: The girl from Asia
This girl was born and lives in Asia. She invites you to visit her for the holidays and offers to pick a some clothes in the asian style in advance . It seems that these are not just clothes of her country, but also the most vivid and beautiful outfits that you have ever seen. Are not they? It's easy to fall in love with these bright dresses, elegant gowns, beautiful hair ornaments and shoes. Surely you will want to try all the dresses immediately. Therefore, choose the most beautiful ones in your opinion, and pick jewelry and shoes suiting to each. Maybe the girl will like your new look on her clothes, and she will wear your created image permanently?
In this dress up game you need only the mouse. Grab thr garments and other things to move them to the girl and try it. Look at the keys on the left. You can change the background of the game, show the finished dress or start creating a new image by pressing the Reset button.
Played: 58941. Added: 23-05-2015, 21:15.
Play other games from this developer:
GirlsW.com
. Categories:
Dress Up
Dress Up: The girl from Asia game walkthrough: