Perfect Cold Season Wedding game
Follow us on Facebook and Youtube: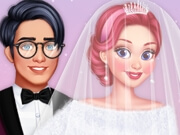 Description: Perfect Cold Season Wedding
A wedding in the cold season, and especially in winter, can be a very beautiful sight. The presence of snow on the street adds a particularly magical shade. Imagine what beautiful photos you can take with the bride and groom against the backdrop of beautiful white snow! But at the same time, it is worth thinking about warm outfits that will keep everyone attending the wedding from freezing. In this dress-up game, you can solve this problem for the groom, bride, and guests. After you have selected stylish outfits for the wedding guests, you can start decorating the table, hall, and then create a cool photo against the background of everything that you have chosen.
How to play:
Match wedding outfits for the newlyweds and wedding guests. Then create a wedding atmosphere by decorating the ceremonial hall, table and choose the rest of the decorations. Then create the best photo.