Adele the circus star game
Follow us on Facebook and Youtube: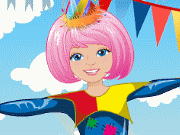 Description: Adele the circus star
Hi! This is Adele. Since childhood, she gives parents and friends smiles, joy and love to conjure. And she grew up and decided to become the circus star. Help her to perform the first time and please the audience with a great performance! There are a lot of beautiful and fun costumes in her wardrobe.
How to Play:
Pick nice and bright memorable outfit for Adele. Try to find a way to make suit combine with shoes, hat and the stage. Click on a house at the bottom left to change the decorations on the stage.
Played: 36333. Added: 24-02-2013, 11:59.. Categories:
Dress Up