Anime Chibi Maker game
Follow us on Facebook and Youtube: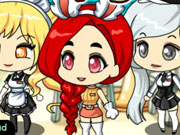 Description: Anime Chibi Maker
This is a cool anime dress up game with a chibi! In this chibi maker you can create a cute chibi, which you can choose almost everything. It is the shape and color of the eyes, the hairstyle, the expression on the face, the clothes and shoes, as well as the pose in which he stands and smiles cute. In addition, it is possible to select a background. Another important feature in the game is that you can click on the Random button and you will see a randomly generated chibi. And it looks great. This chibi can be stored on a computer and placed on your page in a social network or shown to your friends.