Happy Christmas dress up game
Follow us on Facebook and Youtube: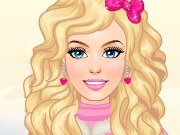 Description: Happy Christmas dress up
You too good mood before the new year? This girl also loves this holiday. Beautiful music, a decorated Christmas tree, a great company of friends and gifts! How cool! But still you need to think about the dress and hairstyle! That this girl did so, but she dresses very much and a lot of options for hairstyles. Help her choose the best out of all this.
Push the mouse to click on the pictures to try all the girl that you see in her wardrobe.