Dress Barbie for Halloween game
Follow us on Facebook and Youtube: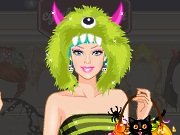 Description: Dress Barbie for Halloween
Barbie loves all kinds of parties. Today such a Halloween party will be held. The usual outfit of course will not work, and therefore we need to look what is there in the beauty's closet and choose the most suitable clothes. If you do not know how and what to wear on Barbie, then press the button with a light bulb to see the clothing options. Can you repeat it?
How to play:
Drag your mouse over any item of clothing and holding it drag it to the girl. If you like it, then proceed to the selecting other items of attire.