Barbie And Elsa best friends game
Follow us on Facebook and Youtube: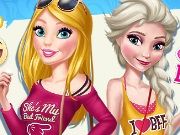 Description: Barbie And Elsa best friends
Did you know that Barbie and Elsa met at the concert of Rock princesses. They saw that they had a lot in common and now they are best friends. Now you can see them together very often and it's hard to imagine that girls can walk away. But Elsa, Frozen Heart has not forgotten about Anna and she wants to surprise Anna. Let's help the girls to make nice and her friends prepare for the meeting. First do makeup and hair and choose clothes and jewelry. Besides girls want to choose a cake. It will be a great gift for young princesses.
How to play:
use the mouse to pick up jewelry and make-up in this game.