Barbie's Flower Shop game
Follow us on Facebook and Youtube: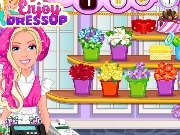 Description: Barbie's Flower Shop
A dream come true Barbie and she's finally going to work in a flower shop. She always liked to give people pleasant moments, and even more she wished to be the mistress of a flower shop. The store is ready and the flowers are on the shelves. Now her task is to manage efficiently to fulfill orders. Help Belle create beautiful bouquets and buyers will be happy to pay money for them.
How to play: follow the orders that leave customers and make them happy. Meet your project deadlines to create a bouquet, and then click on OK to give the finished bouquet shop visitor.