Barbie Shopaholic game
Follow us on Facebook and Youtube: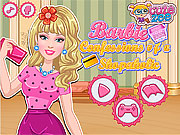 Description: Barbie Shopaholic
Incredible Barbie loves to dress up and make a new purchase. Today she looked in my diary and saw that the long-planned shopping day. So she immediately went to the supermarket garment. She has a great mood because Barbie Shopaholic! Yes! She can't refuse the beautiful dress if you see him in the store. Therefore, she needs help and Barbie always goes in the store with her friends. In this Barbie Shopaholic game you will be able to go to the store together with Barbie. So you will help her to decide exactly what kind of dress she wants.
How to play:
in this remarkable and positive game you will help Barbie choose dresses, skirts and pants. And if famous girls don't have enough money, you will help her to decide which of the purchased clothes can be safely returned to the seller. Then you go into the fitting room. Create three images for Barbie, and then select the best.
Played: 71217. Added: 31-12-2015, 14:30.
Play other games from this developer:
CuteZee.com
. Categories:
Barbie