Barbie's Birthday game
Follow us on Facebook and Youtube: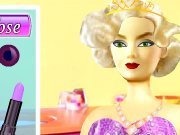 Description: Barbie's Birthday
Barbie is known by any girl around the world for many many years. She always looks young for so many years, but still is a friend of many girls. And do you know that Barbie's more than 50 years? Yes, it's true! She celebrated her fifth birthday in 2009!
How to play the game:
 So girls, in this fun girl game you will need to dress Barbie for her birthday. The controls are very simple. To control, use the pink buttons on the left. In the game you can dress Barbie in various clothes, change hair, change the color of skin, shoes, purses and more. You can also click on the button to apply Random casual attire, but you can use the button "Hint" (hint) and look at a complete example of dressed Barbie dolls.
Played: 91431. Added: 19-05-2010, 17:15.. Categories:
Barbie