Fashion Showdown Barbie vs Harley game
Follow us on Facebook and Youtube: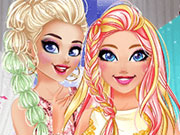 Description: Fashion Showdown Barbie vs Harley
Barbie and Harley have great taste and a huge number of fans all over the world. Both look great and attract admiring glances from people. But what if you arrange a competition and compare these girls to determine the winner? As the game "Barbie vs. Harley" begins, you can choose makeup, clothes, and hairstyles for both celebrities. After the choice is made, you can start to put estimates and find out the result.
By the way, do you know that
Barbie dress up games
were updated and a huge number of games were added there? In them, you can once again plunge into the beautiful world of beautiful dresses, make-up and super hairstyles. In addition, such games are always uplifting.