Barbie Jewelry Artist game
Follow us on Facebook and Youtube: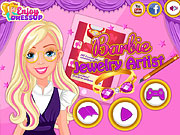 Description: Barbie Jewelry Artist
Barbie has a small business. She has been creating jewelry is handmade. It's her hobby and work. She is very happy to have found yourself in this lesson and the work is very satisfying for her. She gets online orders from customers who want them made some jewelry in form of earrings or rings. Let's see how she makes them. If she needs our help, then I think you will definitely help. Right?
How to play:
in this game you can help Barbie to create unique jewelry for clients. Barbie will be to design jewelry for a certain amount of time. If it doesn't meet the deadline, the client may not pay for the work. Our blonde is very upset about this. Help her make the order in time.