Heels 2 game
Follow us on Facebook and Youtube: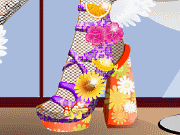 Description: Heels 2
Beautiful clean shoes on woman's legs are not less attractive than the extravagant dress or bright make-up. Any girl can express her emotions and style in footwear. In this game you can create your own unique pair of shoes.
How to play the game "heels 2":
Create a unique pair of shoes that will surprise the world's celebrities. Choose a design uppers, try a style of heels or platform. You can do it all in one color, or you can create something more vivid by choosing different colors and accessories. To control the game use the mouse. Click with the mouse on the toolbar, which is located on the left on the game screen.
Played: 40095. Added: 25-10-2011, 16:02.. Categories:
Decorating