Appetizing fruit sorbet game
Follow us on Facebook and Youtube: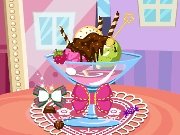 Description: Appetizing fruit sorbet
How about a nice, fresh and healthy dessert? If you like this idea, then get ready to do such dessert for yourself in this game.
How to play:
first, choose a glass substrate, and then choose a glass. Now you can think up what you will have for dessert. Choose a tasty and colorful ice cream, jam, or decorate it with hot chocolate.
Do not forget to choose a spoon, candy and ribbon. Now, your dessert looks not only delicious but it is a pity to eat such a beauty!
Played: 37215. Added: 3-05-2012, 11:46.. Categories:
Decorating