Barbie goes to school game
Follow us on Facebook and Youtube: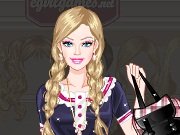 Description: Barbie goes to school
New academic year begins, and it means that you will see your friends and teachers again, you will study and learn new subjects. But despite that you need to choose a new dress for school. After all, fashion has changed over the year, and also you have grown.
How to play:
Prepare Barbie for school and pick her a new cool dress, hair and jewelry. Take advantage of a huge girl's wardrobe and create the best outfit to dress! By the way, if you do not know what to wear, then press the button with a light bulb to see the options of the outfit. Try to pick clothes similar to the picture.