Barbie bride from a fairy tale game
Follow us on Facebook and Youtube: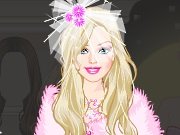 Description: Barbie bride from a fairy tale
A big event in the fairy-tale world. This is a wedding! And the bride is not Cinderella or Snow White, today the bride is Barbie! The wedding will take place very soon and is needed to be quickly and efficiently organized. After all, on the wedding there will be a lot of famous guests who want to congratulate Barbie that she became the bride! There will be a fabulous creation, princes and princesses, animals of the fairy-tale forest, guests of the fabulous worlds at the wedding. Barbie has not enough time to do her dress and she is looking for an assistant. Maybe it could be you?
Barbie has already chosen four options of the outfit and she wants to show them to you, and maybe you decide how they look on her. You might want to add a couple of elements to the selected image or remove something? Especially the bride likes high-heeled shoes, fur collars, beautiful veil and bright jewelry. Do not forget to look at the hair. Our blonde has a very beautiful hair and the hairdo should be the same.
In this Dress up game you need to use the mouse. Click with the mouse on the buttons and things that you can try on the bride. Save the result of the game and show it to your friends.
Played: 69705. Added: 14-04-2015, 22:10.
Play other games from this developer:
egirlgames.net
. Categories:
Barbie